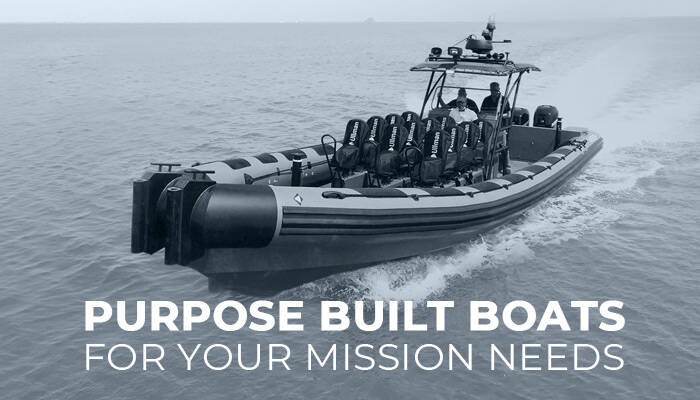 WE MAKE RIGID INFLATABLE BOATS
Welcome to ASIS Boats. We specialize in making Rigid Hulled Inflatable Boats (RHIBs) purpose-built for military, government, and professional clients worldwide. Our boats are designed with the highest standards to meet the specific needs of each of our clients.
We offer various selections, seating configurations, and accessories, enabling complete customization of every aspect of the rigid hulled inflatable boat to fit your specific needs. Every Rigid Inflatable Boat is built to order.
Built with either marine grade Aluminum Hull or Fiberglass (Air Hull®), all our Hypalon sponsons can be fitted with either pneumatic or our patented Hyb Foam® technology.
Our boats are trusted by military organizations, oil and gas companies, marinas, tour operators, and law enforcement agencies for their reliable, high-quality construction. So if you need a purpose-built Rigid Inflatable Boat, look no further. Contact us today and allow us to build you the boat you need.
THE ASIS ADVANTAGE
ON-GOING INNOVATION
Driven by innovation, consistently pushing forward to meet customer's un-met needs.
THE ASIS 360◦ APPROACH
From specking your boat, to building and servicing it, we are here throughout.
PURPOSE-BUILT
Fully customized to meet your mission specific and operations needs.
FASTEST DELIVERY
Having the engineering, design & production all in house gives us the best delivery time in the industry, however customized the boat is
PERFORMANCE
The ASIS Seal of Safety, Quality, Design & Performance is built into each of our customized Rigid Inflatable Boats.
UNDER 1 ROOF
All our boats as well as their accessories and engine rigging is done in-house, giving us the highest standard in the industry.
The ASIS philosophy of Safety, Quality, Design, Innovation and performance, incorporated into each manufactured Rigid Inflatable Boats is what makes ASIS Boats the preferred supplier to Military, Law Enforcement and Commercial organizations around the world.
TESTIMONIALS
We saw during our short visit here at the ASIS factory, your hard work and dedication. You have to be proud of your work. You made an excellent boat… The Brazilian Army considers all your effort and thanks each and everyone…
Brazilian Army Colonel
ASIS Boats is our local rigid inflatable boats provider, their boats are fast, efficient and reliable, but the number one factor that always brings us back to ASIS Boats is their excellent consultancy services. We can always rely on quick, reliable and comprehensive after sales service wherever we are in the UAE.
Dubai Coast Guard
We test ASIS Boat's twin 350 powered Super RIB before it heads to the Lebanon. Some say it's the world's most sophisticated rigid inflatable hull, we'd be inclined to agree.
Coastal Safety's Steve Holmes