ASIS' Newest Professional Cabin Boat
We are very excited about ASIS's latest Professional Cabin boat model. Final testing went through last week, and the boat is officially launched.
This 12 meter Professional Cabin Boat is a terrific platform that can support many different agencies. It can be used for a wide range of mission profiles: patrols, response, port security, law enforcement, anti-piracy, and search and rescue.
The 12-meter Professional Cabin Boat proved to have exceptional seakeeping capabilities in near-shore and off-shore environments thanks to the superior hydrodynamic concave reverse-chine design of the hull. Equipped with 3x350HP Yamaha outboard engines, this rigid inflatable cabin boat has abundant power, exceptional acceleration, and a top speed exceeding 60mph.
Very spacious and comfortable, the air-conditioned cabin utilizes a hybrid construction of both aluminum and fiberglass to achieve excellent strength and rigidity while simultaneously reducing overall weight. The interior boasts a generous full-size forward berthing area for crew-resting for 2 people, a sliding door, walk-through access to the forward deck, and an optional foredeck-mounted crew-serve weapons station. This Professional Cabin boat is also equipped with an enclosed toilet, a sink, and a shower.
The crew will appreciate the Ullman shock-mitigating seats, the exceptional 360-degree ark of visibility from any position within the cabin with slide-opening windows and the significant heat and glare reduction afforded by the down-angled windscreen design.
With a 200-gallon fuel tank, this boat is perfect for long mission range as well as on-station mission loitering times. It is available with headset crew communication systems and an array of C4 ISTAR electronics.
As with all ASIS boats, the tube set can be pneumatic or filled with closed-cell foam.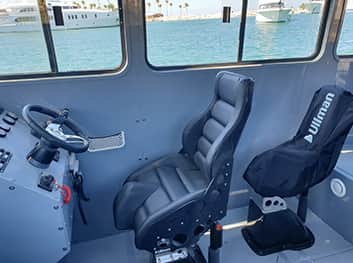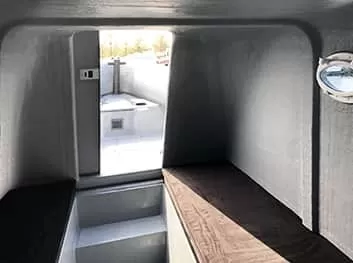 ASIS Boats is a world leader in providing advanced maritime solutions in Rigid Inflatable Boats. We bring concepts to reality, providing you with the solution to your most complex needs.
Recognizing that each owner, organization or agency has its individual specific requirements, each rigid inflatable boat is built to order.
Built in either Fiberglass (Air Hull®) or marine grade Aluminum hull, all our Rigid Inflatable Boats hypalon sponsons can be fitted with either pneumatic or our unique Hyb Foam® technology.