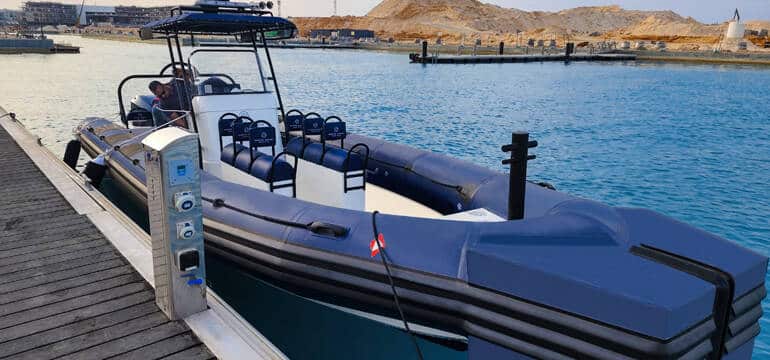 ASIS Boats is now in Marrasi Egypt
Marassi Marine Yacht Club, Egypt's Ultimate Beach side experience just took delivery of 2 ASIS RIB Boats for their Marina operations.
9.5m and 6.5m in size, these fiberglass RHIBs will be used around the Marina for security purposes and to assist mega yachts and big yachts in mooring. Moreover, having a Marina operations boat is always very important for rescue; should a boat from the Marina encounter any failure at sea, the Marina operations boat is ready to tow it back safely to port.

The two fiberglass Rigid Hull Inflatable Boats (RHIBs) are equipped with a flat foam push bow and a bow pull post making the operators job much easier, safer and efficient.

Both RHIBs are made with our patented Deep V-shaped GRP light weight composite hull and a Hypalon 1670 Dtex tube which is extremely durable and abrasion resistant.
These Fiberglass RHIBs play an important role in personnel transfers, mooring assistance, man overboard recovery, towing operations, and other activities.

ASIS Boats is a world leader in providing advanced maritime solutions in Rigid Inflatable Boats. We bring concepts to reality, providing you with the solution to your most complex needs.
Recognizing that each owner, organization or agency has its individual specific requirements, each rigid inflatable boat is built to order.
Built in either Fiberglass (Air Hull®) or marine grade Aluminum hull, all our Rigid Inflatable Boats hypalon sponsons can be fitted with either pneumatic or our unique Hyb Foam® technology.