Sail Support RIB Dedicated To High-Performance Sailing
High-Performance Sailing Worldwide
This new fabulous 8-meter RIB boat from ASIS was designed specifically for Sail support.
The 8 meter hull of this Sail Support RIB Boat certified under category "B" offshore was designed to reduce drag and friction while providing extra lift force due to the reverse chins design.
This heavy-duty ASIS Sail Support RIB Boat, has a very strong towing post at the aft and features a stainless steel T-top and four seats. The 8-meter Sail Support RIB Boat is equipped with a VHF radio and a search light. Powered by twin Mercury 150-hp outboard engines, it can reach speeds of 43 mph.
With its flexibility, seaworthiness and low fuel consumption, this new ASIS 8 meter Sail Support RIB is the perfect choice to support bigger yachts, transporting guest or utilities; it can also be a great addition to any sailing or powerboat racing event, allowing you to position yourself in the midst of the action for the best view and the opportunity to be the first out there for any rescue operation needed.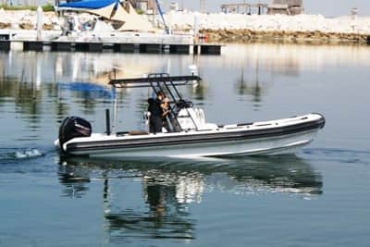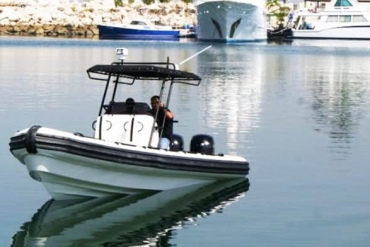 Our sail support RIB boats are meticulously crafted for deployment in naval events, bustling ports, yacht clubs, and docks. They can be tailored precisely to your requirements. Whether you require a vessel for navigating around yachts and other boats, providing support for sailing events and races, or conducting maintenance, we've got you covered. Rely on us to design and deliver dependable, tailor-made vessels that meet your specific needs and get the job done.