Thai Harbor Department Once Again Chooses ASIS Boats!
ASIS Boats just recently commissioned 6 High-Speed ASIS Rigid Inflatable Boats to the Thai Harbor department. These SAR RIBs are intended for river patrolling as well as search and rescue missions.
Accommodating up to 15 passengers, these 8-meter SAR RIBs are equipped with double futura console, 6x single straddle seats, and a SS fuel tank with a capacity of 300L.
The fender tubes are made of UV resistant 1880 Dtex Hypalon fabric covered by non-slip patches and have 5 multi-chambers air tubes that provide buoyancy and reduce vessel weight for maximum performance. Fitted with twin Mercury engines of 200 HP each, these River Patrol SAR RIBs can reach speeds of 56mph.
These SAR RIBs have been customized to assist rescue activities, making them standouts in a sea of similar options.
ASIS SAR RIBs are capable of carrying exceptionally heavy loads at extremely high speeds in both high seas and shallow waters. They are also equipped with a Surface Effect Air hull®, which allows them to withstand rough sea conditions and make tactical turns with ease.
At ASIS Boats, we are known for our excellent customer service throughout the buying process, from specking a boat that meets your needs to being there all the way through until after the sale. Our customers always become family and keep coming back.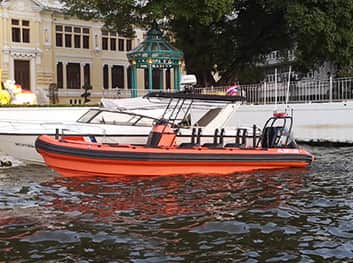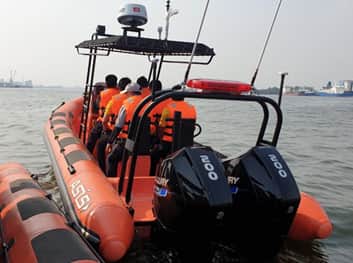 ASIS Boats is a world leader in providing advanced maritime solutions in Rigid Inflatable Boats. We bring concepts to reality, providing you with the solution to your most complex needs.
Recognizing that each owner, organization or agency has its individual specific requirements, each rigid inflatable boat is built to order.
Built in either Fiberglass (Air Hull®) or marine grade Aluminum hull, all our Rigid Inflatable Boats hypalon sponsons can be fitted with either pneumatic or our unique Hyb Foam® technology.