Customized Luxurious ASIS Yacht Tenders
Matching The Design Of Their Respective Mother Yachts
Dubai, UAE- ASIS Boats, the GCC manufacturer of professional grade Rigid Inflatable Boats (RIBs) for military, commercial and recreational industry is in the process of delivering many RIB Yacht tenders all styled to perfection, providing high level of quality and safety coupled with exhilarating on water performance.
Most boats enthusiast are putting in their orders for yacht tenders to service their big yachts.
From the US to the UAE, our customers are entrusting ASIS Boats for manufacturing their yacht tender with different sizes and specifications as all boats from ASIS has proved their self being extremely safe and robust. Every Detail of each boat has been given great care to ensure the customer's satisfaction.
The Yacht tenders vary in size from 4.2, to 8 meter and are constructed with solid commercial fiberglass hulls, heavy-duty Hypalon tubes with multiple chambers, pressure relief valves, and non-skid decks. They can be powered by either inboard or outboard engines.
All our Customized Luxurious Yacht Tenders are constructed with ISO Standards, comply with the European Conformity and are NMMA certified.
About ASIS – ASIS Boats the world leader in rigid inflatable boat-building specializes in designing and building safe, comfortable, reliable, performance-oriented Rigid Inflatable Boats (RRIBs) that exceed our customer's expectations. ASIS Boats is a reputable Rigid Inflatable Boat (RIB) manufacturer for Recreational, Commercial, and Military applications throughout the world. ASIS Boats offers a wide array of vessels that are capable of fulfilling most any mission.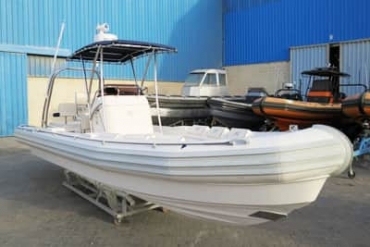 ASIS Boats is a world leader in providing advanced maritime solutions in Rigid Inflatable Boats. We bring concepts to reality, providing you with the solution to your most complex needs.
Recognizing that each owner, organization or agency has its individual specific requirements, each rigid inflatable boat is built to order.
Built in either Fiberglass (Air Hull®) or marine grade Aluminum hull, all our Rigid Inflatable Boats hypalon sponsons can be fitted with either pneumatic or our unique Hyb Foam® technology.