Discover ASIS' Diving Boats
We have just added a new size to our diving range. Our first 6.5-meter diving boats  have recently been delivered to our customer in Malta. We now offer 3 sizes that can be fully customized: 6.5m, 8 m, and 9.5m.
ASIS RIBs are the best diving boats, and we offer you the best RIBs as we build them with your safety and ease of access in mind.
Our diving boats feature the most important elements for a great diving experience:
Excellent water entry from the tube
Unparalleled easy water exit with our flippable diving ladder
Diving cylinder holders / Storage
Under-deck storage for your diving gear
Electronics to include GPS and Depth Sounder
Dry storage area
Wide area for gearing up of divers
Fresh water shower
Why are RIB boats the best option for diving?
Their Tube: Allows for smooth entry to water
Their Hull: Allows you to go in open sea in all sea conditions
Their Inherent Stability: Allows you to gear up in all comfort
With an ASIS diving boat, designed to your standards, you can fully enjoy your passion and dive into the sea's treasures. Whether you are a professional diver or a company that offers diving lessons to diving-to-be enthusiasts, we can build the ideal diving boat for you.
Our ability to custom-design highly reliable and safe diving boats to our clients specific needs with the fastest delivery time in the industry makes us the preferred boat builder worldwide.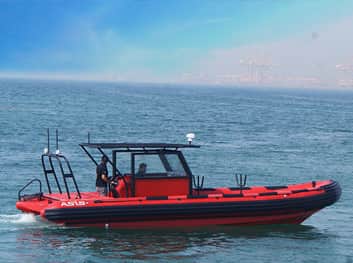 ASIS Boats is a world leader in providing advanced maritime solutions in Rigid Inflatable Boats. We bring concepts to reality, providing you with the solution to your most complex needs.
Recognizing that each owner, organization or agency has its individual specific requirements, each rigid inflatable boat is built to order.
Built in either Fiberglass (Air Hull®) or marine grade Aluminum hull, all our Rigid Inflatable Boats hypalon sponsons can be fitted with either pneumatic or our unique Hyb Foam® technology.