ASIS BOATS: Pioneering Maritime Solutions in the UAE
We are thrilled to share some exciting news with you! ASIS Boats, your trusted manufacturer of Rigid Inflatable Boats (RHIBs), is proud to announce the successful delivery of several high-performance boats to prestigious clients in the UAE during the month of July 2023.
ENHANCING THE UAE'S NAVAL CAPABILITIES:
ATLAS ELEKTRONIK PROJECT
Four RHIBs, each measuring 6.5 meters in length, were recently produced and delivered by ASIS Boats for Atlas Elektronik, to be used by the UAE's Navy. These cutting-edge ships provide unmatched agility, speed, and stability while being built to fulfill the rigorous requirements of maritime operations.
EMPOWERING DP WORLD:
MARINA SUPPORT RHIB
ASIS Boats has also built and delivered another RHIB for DP World, an international leader in trade and logistics on a global scale. This 8-meter Marina Operator RHIB is designed specifically to offer outstanding assistance in marinas. It has a distinctive front flat push bow that makes it capable of handling a variety of jobs, including yacht maneuvering, with ease.
YAS MARINA'S NEW JEWEL:
A PREMIUM 8-METER RHIB
In addition to our other achievements, we are honored to have designed and delivered an 8-meter RHIB to the renowned YAS Marina in Abu Dhabi. Combining exquisite craftsmanship with unmatched performance, this RHIB is set to become a jewel in the marina's fleet, serving its visitors and customers with the highest standards of safety and efficiency.
ENGINEERING EXCELLENCE IN THE UAE 
At ASIS Boats, we take immense pride in our UAE roots, and it is here, within our fully vertically integrated factory, that our extraordinary vessels come to life. Our state-of-the-art manufacturing facility enables us to maintain complete control over the production process, ensuring every boat we deliver is a testament to engineering excellence.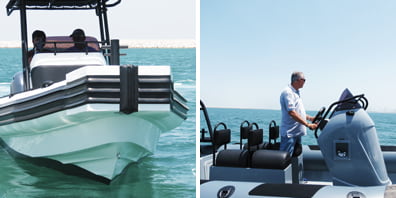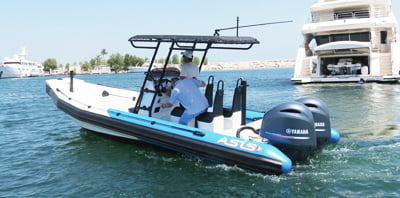 THANK YOU FOR TRUSTING ASIS BOATS
As we celebrate these recent milestones, we extend our heartfelt gratitude to our esteemed clients and partners for placing their trust in ASIS Boats. We remain dedicated to fostering strong relationships and delivering unparalleled products and services.